Anna Rettl
Skolen for Maleri og Billedbaserede Praksisser / The School of Painting and Pictorial Practices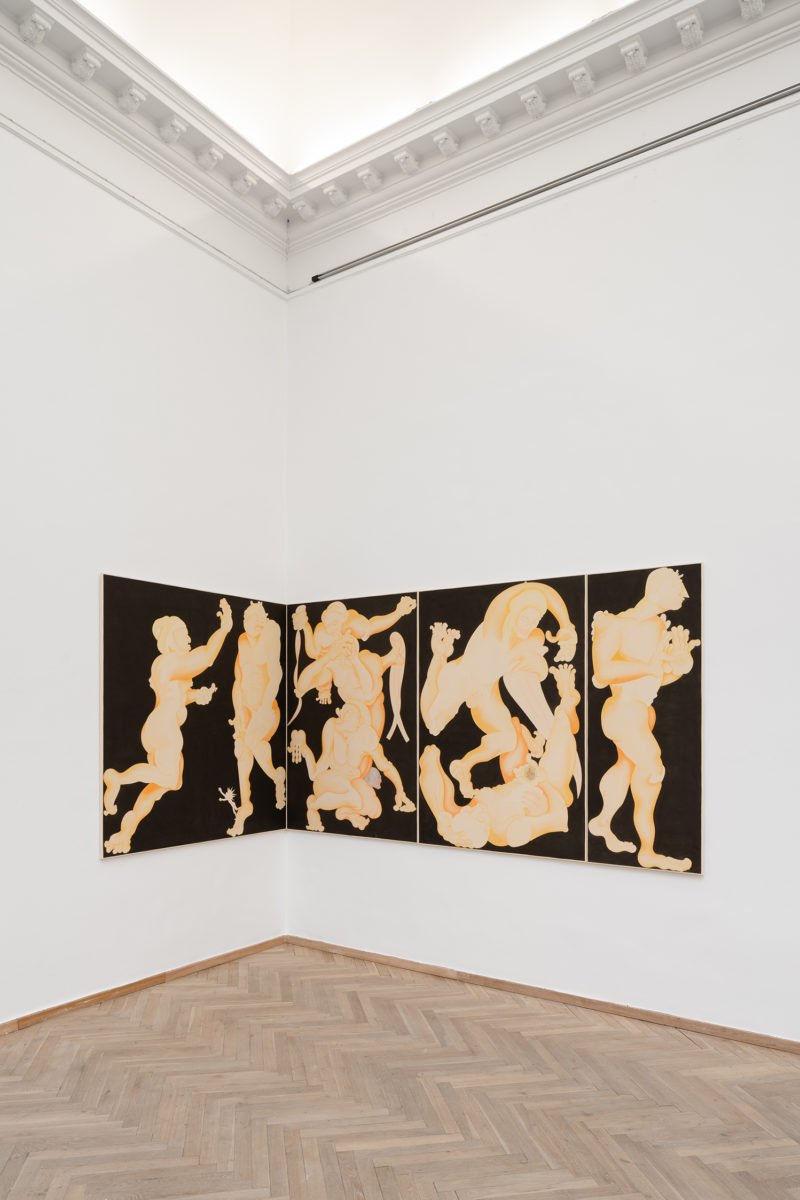 One group of Anna Rettl's paintings depicts accumulations of human bodies in different formations. They interact with each other in various ways, for example by lifting or pulling objects while forming what may be a procession or protest rally.
The second group of paintings does not show crowds, but compositions that fall into three categories: individual depictions, duos and triads.
Both constellations are painted using the same hues, alternating from deep cadmium to Hokkaido orange, giving them a strong similarity, while the backgrounds of the two groups vary. Rettl paints with watercolours, a technique which contributes to the way her figures appear: curved shapes, muscular upper bodies and thighs, crooked noses, bulging and heavy hands and feet. The bodies almost transcend their own nature as bodies, becoming grotesque and stylised.
Rettl constructs her scenes partly from pre-existing works of art. Bodies and compositions are sourced from medieval depictions of mobs and Baroque representations of Christian saints as well as from  Romantic allegorical depictions of the virtues.  In Rettl's works, these different bodies are stitched together anew, becoming transplants revived as absurd and oversized entities.
Rettl's endeavour is not about reinterpreting specific myths and religious narratives, but rather about highlighting the many ways these stories have been told in purely compositional terms. Whether the figure depicted is Jesus or Jason is of less significance to Rettl. Rather, the core of the artist's studies concern issues of repetition and the fact that these figures have been painted from time immemorial. Accordingly, all markers of specific identity have been removed. By stripping the characters of all peculiarities and distinguishing traits, she points out how representations of major historical events, myths and religious narratives can be transformed from dealing with the individual to being about the collective – and vice versa.
____
I den ene gruppe af Anna Rettls malerier ses ophobninger af menneskekroppe i forskellige formationer. De interagerer med hinanden på forskellig vis ved for eksempel at løfte eller trække genstande i noget som kunne minde om en procession eller demonstration.
I den anden gruppe af malerier ser man ikke en folkemængde, men kompositioner, der fordeler sig i individuelle fremstillinger, duo-fremstillinger og trio-fremstillinger.
Begge konstellationer er malet i de samme toner, vekslende fra dyb kadmium orange til hokkaido orange, og fremstår derfor ens, mens baggrundene i de to grupper varierer. Rettl maler med vandfarver, hvilket bidrager til måden figurerne fremstår på: svungne former, muskuløse overkroppe og lår, krogede næser, svulmende og tunge hænder og fødder. Kroppene overstiger næsten deres egen kropslighed og fremstår groteske og stiliserede.
Rettl konstruerer sine motiver ud fra allerede eksisterende kunstværker. Hun henter kroppe og kompositioner fra alt fra middelalderlige skildringer af pøblen over barokke repræsentationer af kristne helgener til romantiske allegorier over dyderne. I Rettls værker bliver disse forskellige kroppe syet sammen på ny, som var de lavet af transplanter, og genoplives derved som absurde og overdimensionerede.
Rettls ærinde er ikke at genfortolke bestemte myter og religiøse fortællinger, men derimod at fremdrage og sidestille de mange måder disse historier rent kompositorisk er blevet fortalt på. Om det er Jesus eller Jason er på sin vis underordnet for Rettl. Gentagelsen og det faktum at disse skikkelser utallige gange, over et stort tidsinterval er malet igen og igen, er kernen i kunstnerens undersøgelse. Derfor er alle identitetsmarkører fjernet. Ved at fjerne figurernes særegenhed og kendetegn peger hun på, hvordan repræsentationer af store historiske begivenheder, myter og religiøse fortællinger ved et simpelt greb kan transformeres fra at omhandle individet til at omhandle kollektivet og vice versa.