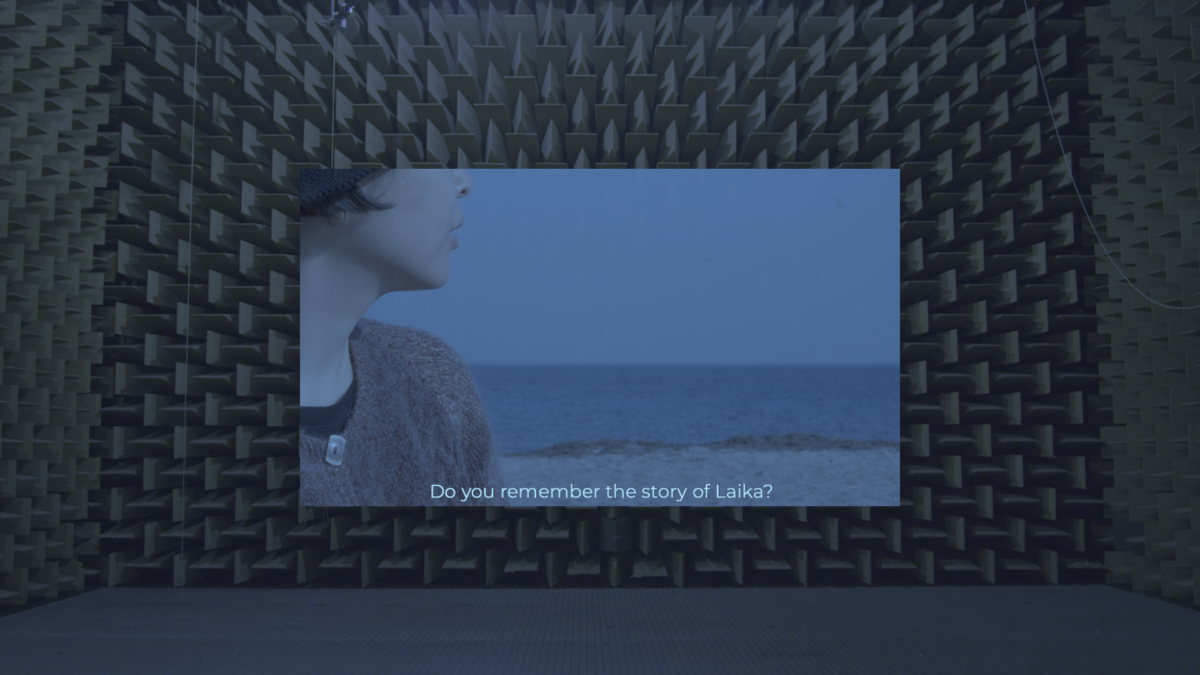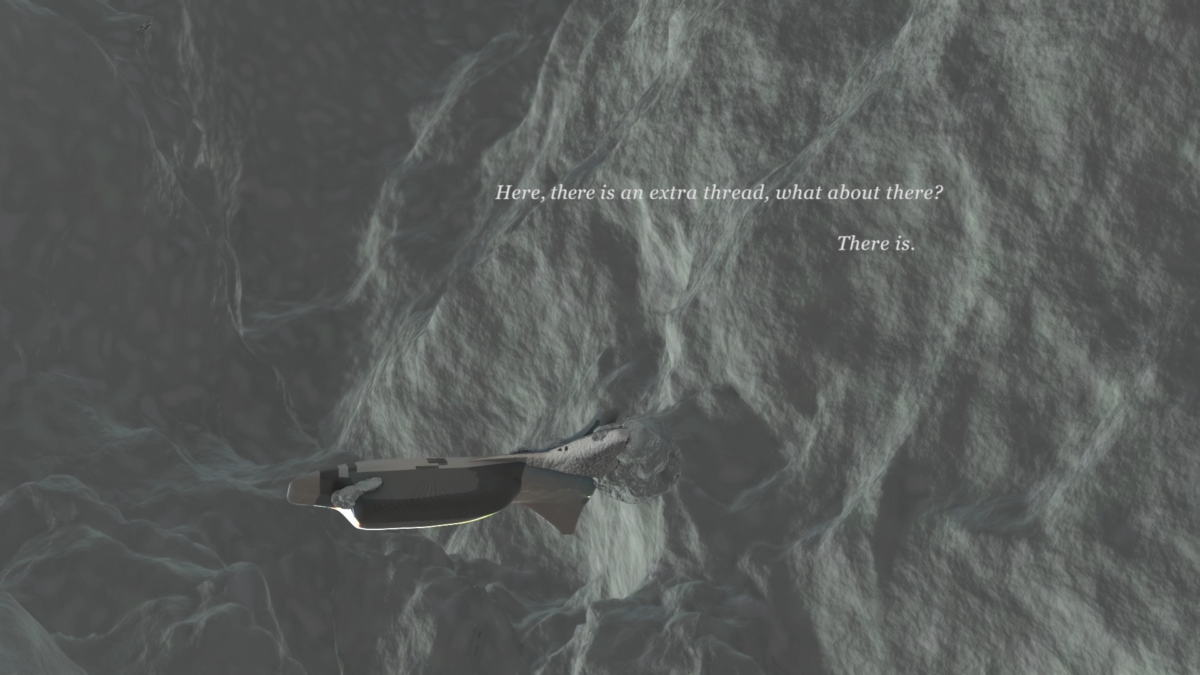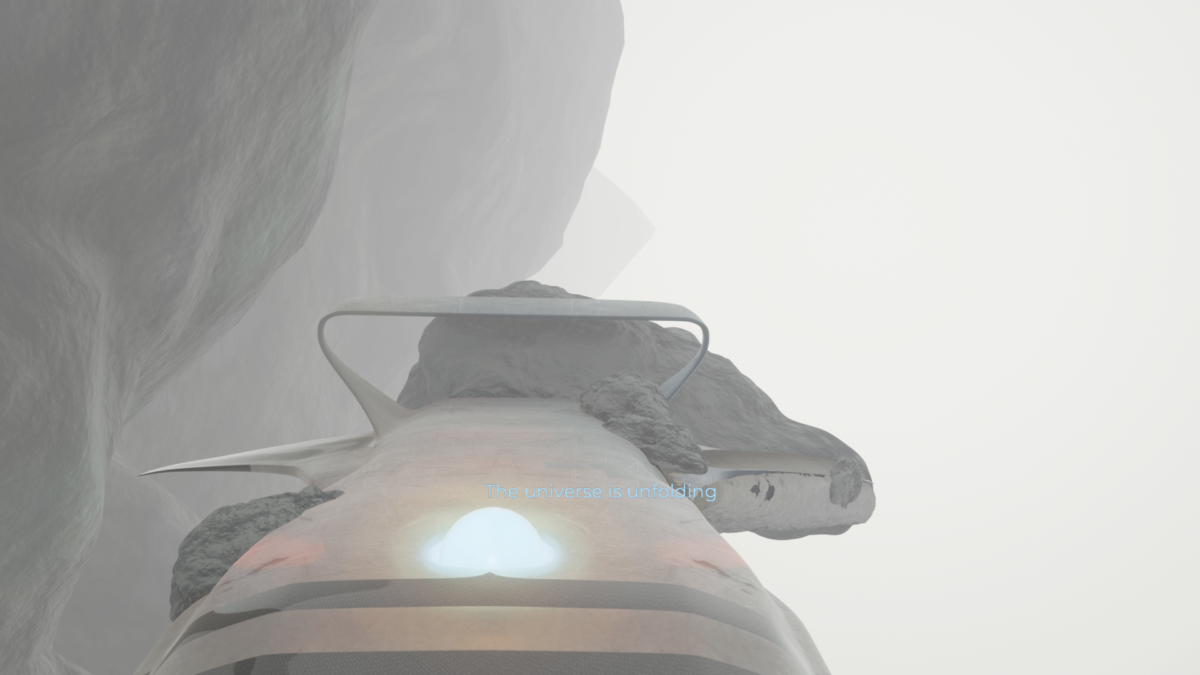 Yujin Jung
Intervals, 2021, 43 min.
Mixed media med hologramprojektion på glas og marmorsten
Mixed media with with hologram projection film on glass and marble stone
In the immersive 6-channel sound and video installation Intervals Jung invites us to sit down together and join a 43 min journey exploring the theoretical and poetic aspects of sound and images in different sonic worlds.

The starting point for this is the sound of her grandmother's burial garment being produced. We hear a group of women telling about their life and the labor that goes into making the hemp burial garment Sambe. Traditional Korean spiritual craft practices are social technologies with repeated cultural practices anchored in lives and places. These practices are slowly dying out in present day Korea. Jung recorded the production process, from seeding hemp seeds to harvesting, making the hemp to threads, and finally weaving the garment. It is believed that if you keep this burial cloth when you are alive, you'll have a long life and die in peace. In this sense the burial garment is a spiritual travel technology guiding the last journey crossing over from life to death. Jung has made a marble sculpture of  wings and created a CGI animation of it signifying this final journey.
Interlaced between hearing the women talk, we are placed in two futuristic looking sound labs at DTU. In the reverberation chamber Jung gives a physicality to sound, where echoes travel indefinitely. In the anechoic chamber a complete quiet surrounds us as the chamber absorbs all sounds. In supersonic travel, speed detaches sound from movement and the body, as if the body loses its shadow. Through interweaving the acoustics of space and the virtual imagery built upon the oscillating physical world, Jung reflects on memories, travel and time.
In Intervals the soundscape between different temporalities and space, within the slowness of oral and craft traditions and the hyper acceleration of a capitalist future, Jung asks us to sit together as bodies and listen, locating ourselves to what we care about in the present.
I Intervals, en 6-kanals lyd- og videoinstallation, inviterer Jung os til at slå os ned sammen og drage med ud på en 43 minutter lang rejse. En rejse, der udforsker de teoretiske og poetiske aspekter af lyd og billeder i forskellige lydmæssige verdener.
Udgangspunktet er lyden af hendes bedstemors ligklæde, der fremstilles. Vi hører en gruppe kvinder fortælle om deres liv og om arbejdet med at fremstille et Sambe, et ligklæde lavet af hamp. De traditionelle koreanske spirituelle håndværkspraksisser er en form for sociale teknologier, der via gentagelser er forankret i både liv og steder. Men disse praksisser er ved at uddø i nutidens Korea. Jung har optaget hele produktionsprocessen, lige fra hampfrøene sås og høstes til planten omdannes til tråde og til sidst bruges til at væve klædet. Det hedder sig, at hvis man opbevarer dette ligklæde, mens man lever, vil man få et langt liv og en fredfyldt død. I denne forstand er ligklædet en slags åndelig guide på den sidste rejse fra liv til død. Jung har lavet en marmorskulptur af vinger og skabt en CGI-animation af den, som skal repræsentere den sidste rejse. 
Ind imellem mens vi hører kvinderne tale, føres vi ind i to futuristisk udseende lydlaboratorier på DTU. I efterklangskammeret giver Jung lyden en særlig fysisk fremtræden i form af ekkoer, der bølger frem og tilbage. I det lyddøde rum omgives vi af en total stilhed, da kammeret absorberer alle lyde. Når man rejser ved overlydsfart, løsriver farten lyden fra kroppen og dens bevægelser, lidt lige som om kroppen mister sin skygge.  I en vekslen mellem rummenes akustik og de virtuelle billeder, der er bygget på den oscillerende fysiske verden, reflekterer Jung over minder, rejser og tid.
I værket Intervals skaber Jung et lydbillede i krydsfeltet mellem forskellige  tidsligheder og rum, mellem den mundtlige overleverings og det traditionelle håndværks langsommelighed og den kapitalistiske fremtids hyperfart. I dette mellemrum, indbyder Jung os til at sidde sammen som kroppe og lytte og orientere os i forhold til det, vi holder af i nuet.