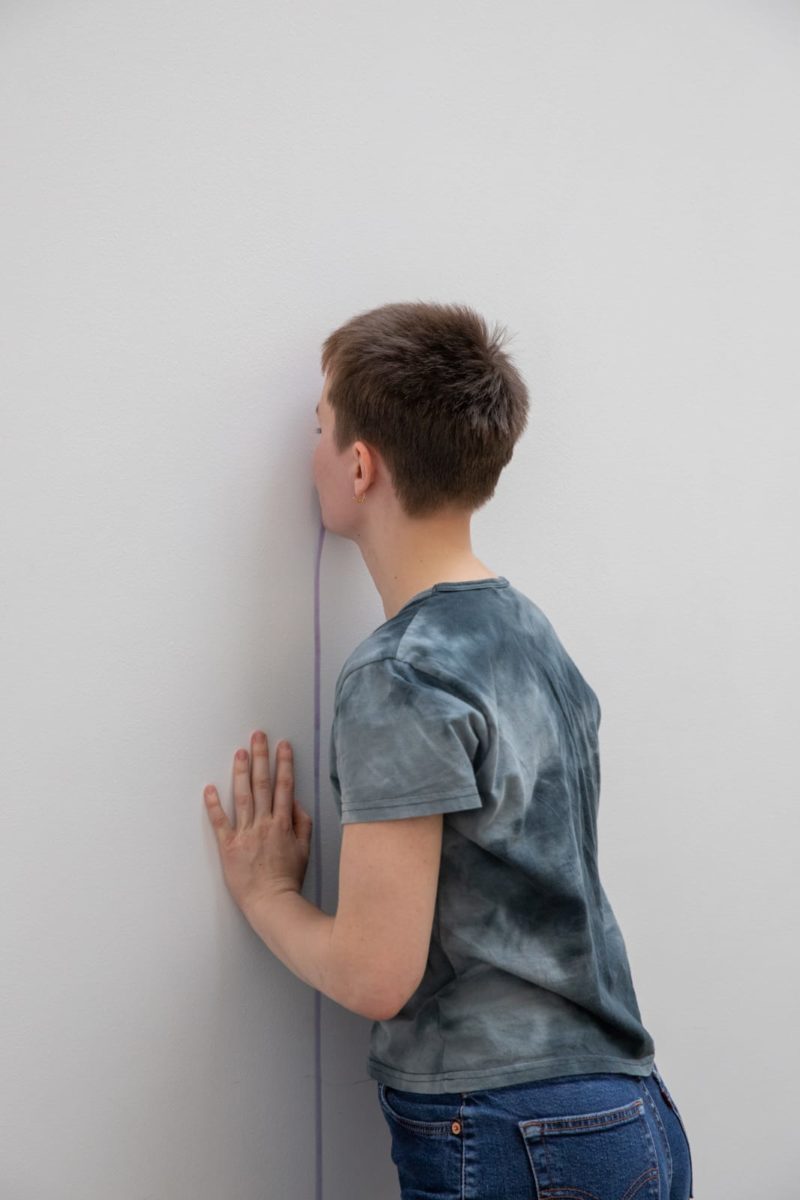 picture: Katrien Van der Velden, photographed by Anabela Veloso.
the margins of my limit
A durational performance for exhibition spaces and sites of historical relevance.
Wednesdays 17h-19h___ 28.04, 05.05, 12.05, 19.05.
Saturdays 14h-16h___ 24.04, 01.05, 15.05, 22.05.
Water dripping day by day. A group of performers work from the innards of the museum. The walls are the borders that produce auras, that legitimize or exclude, selecting that which has a right to attention, yours, ours. This is our site of intervention. With our bodies, we invest a vibration in and together and through the walls, we seek a breach. To let go. Make flow. Make move. Make a mess of the aura, with our nuisances. With our in/digestion. What affects and what is affected? What is the weight of structure, a code of conduct? What are our margins for action?
Over the course of nine sessions, we will practice the deformation and reorganization of bodies through surface to surface, innards to innards contact, insisting in caring/carrying and subtlety/intensity as strategies to move what had been stagnant. To wear the hardest stone away.
*
MFA graduation piece from Marina Dubia, in collaboration with performing artists and research partners Aline Combe, Birgitte Skands, Julie Schmidt, Lene Kreilgaard, Katrien van der Velden, Sanna Blennow, Sara Margrét Ragnarsdóttir, Sophia Mage, Tanya Rydell. Support and provocations from Ruth-Johanne Andersson.
Assistance: Anne Sofie Skjold Møller, Sara Vieira Marques.
Documentation: Amr Hatem, Anabela Veloso.
Thought through with the generosity of the friends and guests who have shared in feedack sessions, studio visits and rehearsals.
*
Marina Dubia (1992, São Paulo; 2018, Copenhagen) is a vagabond artist, finicky writer and choreographer in process. She has studied Fine Arts at University of São Paulo (2010-15), Performative Arts at Forum Dança, Lisbon (2020), and Conceptual and Contextual Practices at the MFA Program of the Royal Danish Academy of Fine Arts (2018-21). Her works are poetic gestures for transitional spaces, institutions and people; that seek destabilization of ordinary perceptive routes, inquisitive observation and to untangle bodies from narrative and language
insta: @pessoateimosa
site: dubia.page.