P e r h a p s   o n e   i s ,  a  t h o u s a n d   y e a r s   f r o m   n o w ,
 s o m e w h a t   h e a v i e  r   a n d   m o r e   u n d i s t u r b e d 
(Rainer Maria Rilke)
M å s k e  e r  m a n  o m  t u s i n d e  å r  n o g e t  k r a f t i g e r e  
o g  m e r e  u f o r s t y r r e t   
(Rainer Maria Rilke)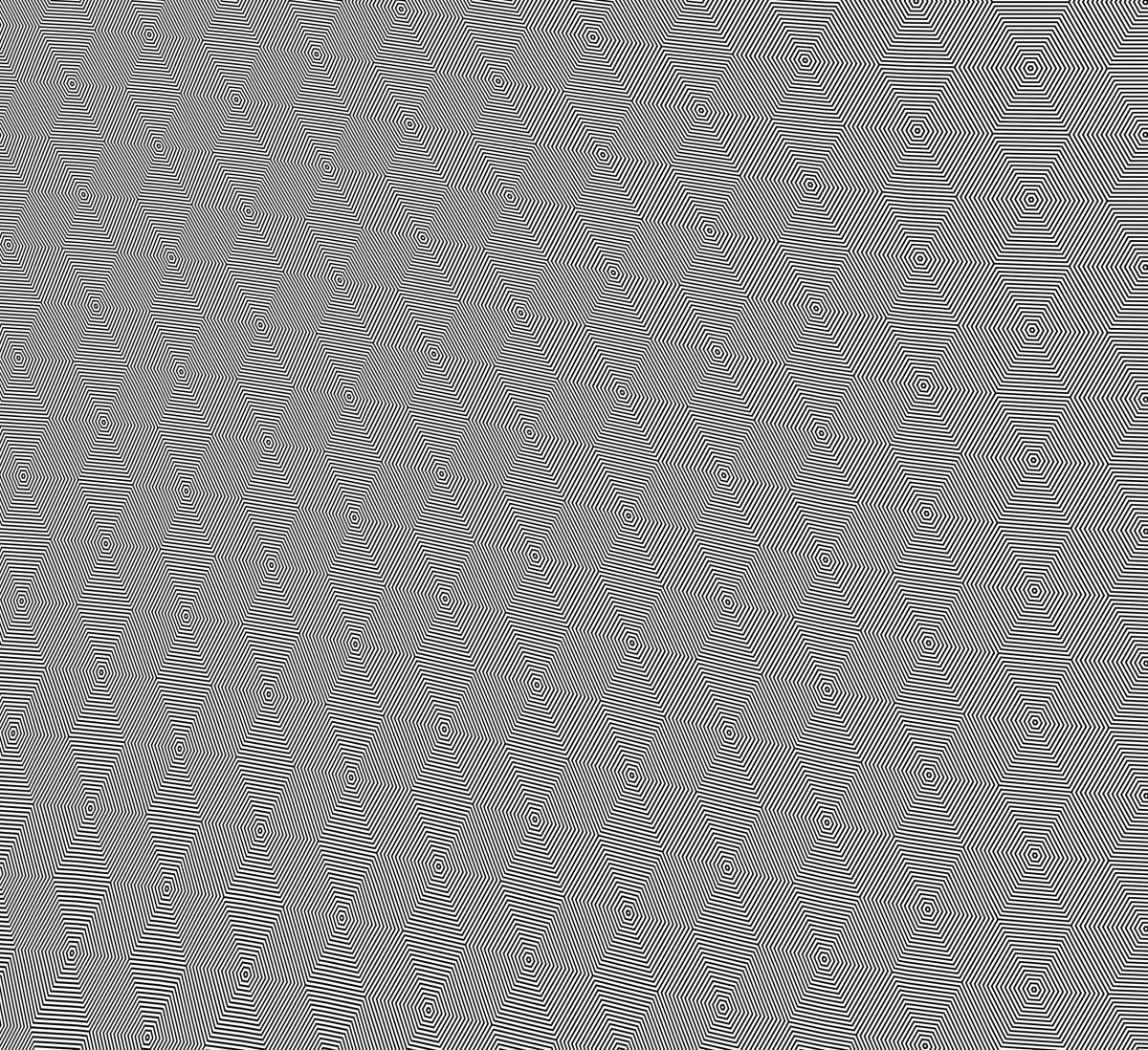 The affects of geometry (in a disorienting sense) – When perceiving optical illusions, the nervous system as a site of production develops a critique of the experience. In relation to architecture this event holds a potential for illuminating the interior or the surface focusing on the decorative part of them that is usually subjugated to the more powerful rational structures of the build environment.
When the short-lived movement of Op-art appeared as a phenomenon in the 60s the art elite was highly critical. In 1965 the exhibition "Responsive Eye" opened at MoMA in New York and was extremely popular among the general public. The art critics on the contrary gave the show very bad reviews and dismissed Op-art as nothing more than "tricks that fool the eye".
http://ubu.com/film/depalma_responsive.html
What were the political ideas behind these more or less sensational works? And how can they relate to an image production to-day after our having entered into a digital era?
Reading Victor Vasarelys manifest "Towards democratization in art" I was reminded of some of the points from the pre-digital times.
He writes: Sensations are first registered by our emotions… Since it is not possible for everyone to study modern art seriously, in place of its "comprehension" we advocate its "presence"… Let us not fear the new tools that technique has given us. We can only live authentically in our own time. [1]
I google: "How to live "authentically" in ones own time?" And "What are the changes in our perception, with technology developing so rapidly?"
In the last search result, a link to an article about "screen eyes" or computer vision syndrome pops up. Next in googles list, is a Wikipedia page on Accelerating change…
http://en.wikipedia.org/wiki/Accelerating_change
[1] In DATA: Directions in Art, Theory and Aesthetics (1968).
Geometri som virker affektivt (i en desorienterende forstand) – Når man oplever en optisk illusion, producerer nervesystemet selv en kritik af oplevelsen. I relation til arkitektur kan fænomenet bruges aktivt som et grafisk værktøj til at fremhæve interiøret og overfladen. Det indebærer et fokus på det dekorative som ellers er underlagt mere magtfulde strukturer i det byggede miljø.
Da Op-art dukkede op som fænomen i tresserne, var kunsteliten meget kritisk indstillet. I 1965 åbnede udstillingen "the responsive eye/det reagerende øje" på MoMA i New York, og udstillingen blev ekstremt populær i den brede offentlighed, mens kunstkritikerne gav udstillingen meget dårlige anmeldelser og afviste op-arten, da de mente, at den ikke var andet end "tricks that fool the eye"/"tricks som snyder øjet".
http://ubu.com/film/depalma_responsive.html
Hvad var den politiske vision bag de mere eller mindre sensationelle værker? Og hvordan kan de relatere sig til billedproduktion i dag efter at det digitale rum er blevet et vilkår?
Ved at undersøge Victor Vasarelys manifest "På vej mod en demokratisering af kunst" blev jeg mindet om nogle af pointerne fra den præ-digitale tid.
Han skriver: Sensationer er først registreret af vores følelser… Siden at det ikke er muligt for alle at studere moderne kunst mere dybdegående, skal vi i stedet for at "begribe" advokere dets "tilstedeværelse". Lad os ikke frygte de nye værktøjer som teknologien har givet os. Vi kan kun leve autentisk i vores egen tid.[1]
Jeg googler: "Hvordan lever man autentisk i sin egen tid?" Og "Hvilke forandringer sker i perceptionen, som en konsekvens af den teknologi, der udvikler sig hurtigere og hurtigere?"
Som svar på mit sidste spørgsmål, foreslår googles søgemaskine en artikel om skærmøjne eller computersyn-syndromet. Det næste på listen er en Wikipedia-artikel-om accelererende forandring.
http://en.wikipedia.org/wiki/Accelerating_change
[1] In DATA: Directions in Art, Theory and Aesthetics (1968).